Who's Dany?

Dany has always had a passion – singing. At only sixteen years old, she had her first public performance, winning a singing competition.

That kick started her career, since then she has worked internationally in different duos, trios and bands.

She began to take bass guitar and percussion lessons, to make herself a more versatile performer. Dany says, "That rhythm can really make you dance", because she also is a trained dancer.

She loves to flirt with the audience, by leaving the stage and going into the crowd and interacting with the people, never losing the feeling of "it's now or never" and drawing each person in.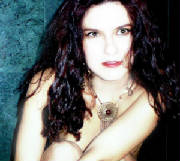 Who's Ralitza?
Ralitza started to play piano at the age of four, studying classical piano at the music conservatory. Love of the arts led her to enroll at the "Performing Arts University", where she received a degree for stage performance. At that time Ralitza's stage experience included everything – theatre plays, musicals, Dance Theatre, even directing. After university she joined an accapela ensemble and toured for almost two years throughout Norway, Germany and Italy. She was also engaged in Egypt for a TV and radio media. The past three years she has performed all over South Korea in acoustic jazz duos, trios, and fronted show bands. The combination of Ralitza's cunning wit and musical expertise makes "The vixens" a cut above the rest.